He is the ray of enlightenment… Kalvakuntla Chandrasekhar Rao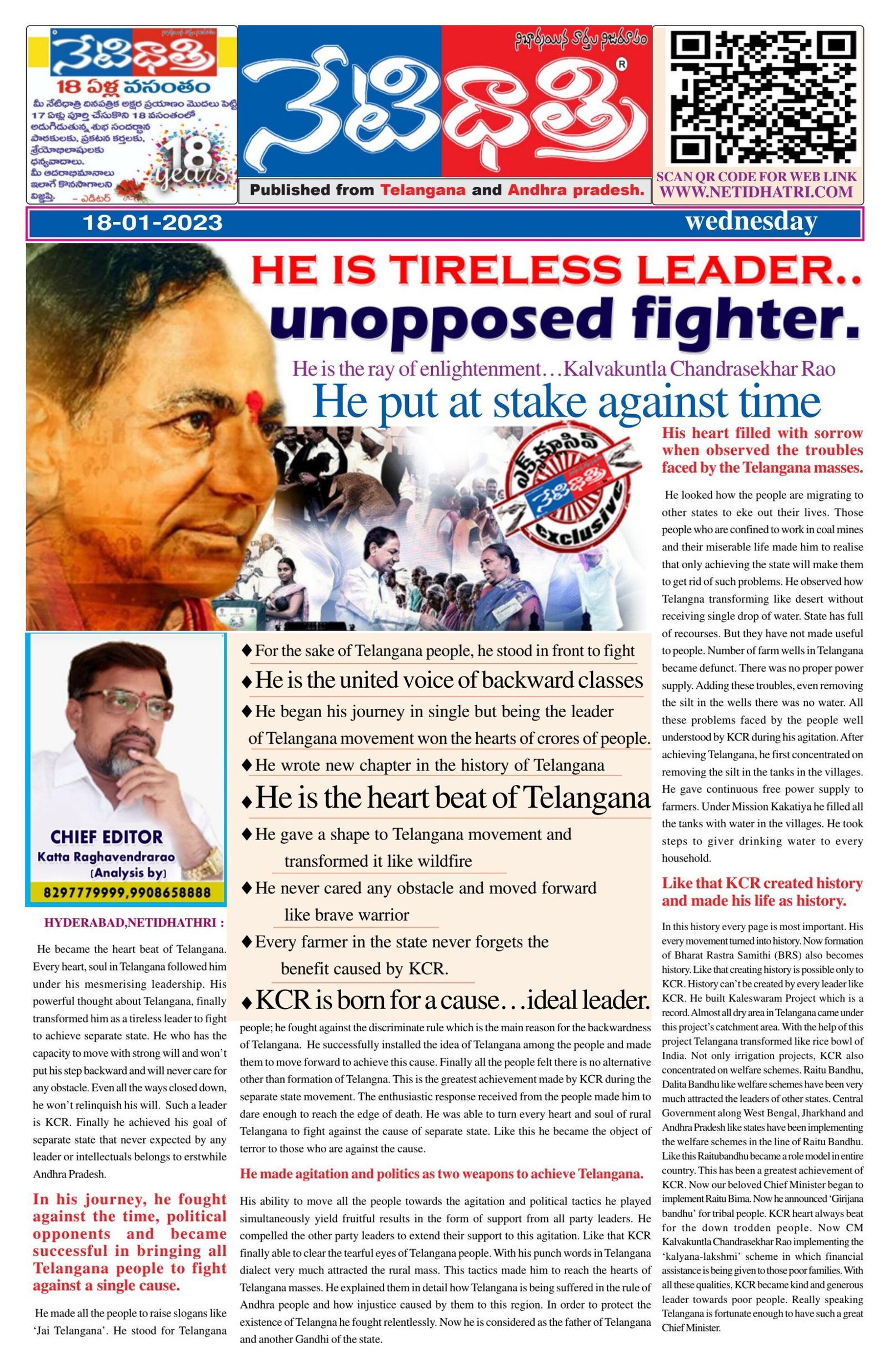 -He put at stake against time
-For the sake of Telangana people, he stood in front to fight
-He is the united voice of backward classes
-He began his journey in single but being the leader of Telangana movement won the hearts of crores of people.
-He wrote new chapter in the history of Telangana
-He is the heart beat of Telangana
-He gave a shape to Telangana movement and transformed it like wildfire
-He never cared any obstacle and moved forward like brave warrior
-Every farmer in the state never forgets the benefit caused by KCR.
-KCR is born for a cause…ideal leader.
HYDRBADH,NETIDHATHRI : He became the heart beat of Telangana. Every heart, soul in Telangana followed him under his mesmerising leadership. His powerful thought about Telangana, finally transformed him as a tireless leader to fight to achieve separate state. He who has the capacity to move with strong will and won't put his step backward and will never care for any obstacle. Even all the ways closed down, he won't relinquish his will. Such a leader is KCR. Finally he achieved his goal of separate state that never expected by any leader or intellectuals belongs to erstwhile Andhra Pradesh. 
In his journey, he fought against the time, political opponents and became successful in bringing all Telangana people to fight against a single cause.
 He made all the people to raise slogans like 'Jai Telangana'. He stood for Telangana people; he fought against the discriminate rule which is the main reason for the backwardness of Telangana. He successfully installed the idea of Telangana among the people and made them to move forward to achieve this cause. Finally all the people felt there is no alternative other than formation of Telangna. This is the greatest achievement made by KCR during the separate state movement. The enthusiastic response received from the people made him to dare enough to reach the edge of death. He was able to turn every heart and soul of rural Telangana to fight against the cause of separate state. Like this he became the object of terror to those who are against the cause.
He made agitation and politics as two weapons to achieve Telangana. 
His ability to move all the people towards the agitation and political tactics he played simultaneously yield fruitful results in the form of support from all party leaders. He compelled the other party leaders to extend their support to this agitation. Like that KCR finally able to clear the tearful eyes of Telangana people. With his punch words in Telangana dialect very much attracted the rural mass. This tactics made him to reach the hearts of Telangana masses. He explained them in detail how Telangana is being suffered in the rule of Andhra people and how injustice caused by them to this region. In order to protect the existence of Telangna he fought relentlessly. Now he is considered as the father of Telangana and another Gandhi of the state.
His heart filled with sorrow when observed the troubles faced by the Telangana masses.
 He looked how the people are migrating to other states to eke out their lives. Those people who are confined to work in coal mines and their miserable life made him to realise that only achieving the state will make them to get rid of such problems. He observed how Telangna transforming like desert without receiving single drop of water. State has full of recourses. But they have not made useful to people. Number of farm wells in Telangana became defunct. There was no proper power supply. Adding these troubles, even removing the silt in the wells there was no water. All these problems faced by the people well understood by KCR during his agitation. After achieving Telangana, he first concentrated on removing the silt in the tanks in the villages. He gave continuous free power supply to farmers. Under Mission Kakatiya he filled all the tanks with water in the villages. He took steps to giver drinking water to every household. 
Like that KCR created history and made his life as history.
In this history every page is most important. His every movement turned into history. Now formation of Bharat Rastra Samithi (BRS) also becomes history. Like that creating history is possible only to KCR. History can't be created by every leader like KCR. He built Kaleswaram Project which is a record. Almost all dry area in Telangana came under this project's catchment area. With the help of this project Telangana transformed like rice bowl of India. Not only irrigation projects, KCR also concentrated on welfare schemes. Raitu Bandhu, Dalita Bandhu like welfare schemes have been very much attracted the leaders of other states. Central Government along West Bengal, Jharkhand and Andhra Pradesh like states have been implementing the welfare schemes in the line of Raitu Bandhu. Like this Raitubandhu became a role model in entire country. This has been a greatest achievement of KCR. Now our beloved Chief Minister began to implement Raitu Bima. Now he announced 'Girijana bandhu' for tribal people. KCR heart always beat for the down trodden people. Now CM Kalvakuntla Chandrasekhar Rao implementing the 'kalyana-lakshmi' scheme in which financial assistance is being given to those poor families. With all these qualities, KCR became kind and generous leader towards poor people. Really speaking Telangana is fortunate enough to have such a great Chief Minister.