So KCR wants to align Telangana movement with elections.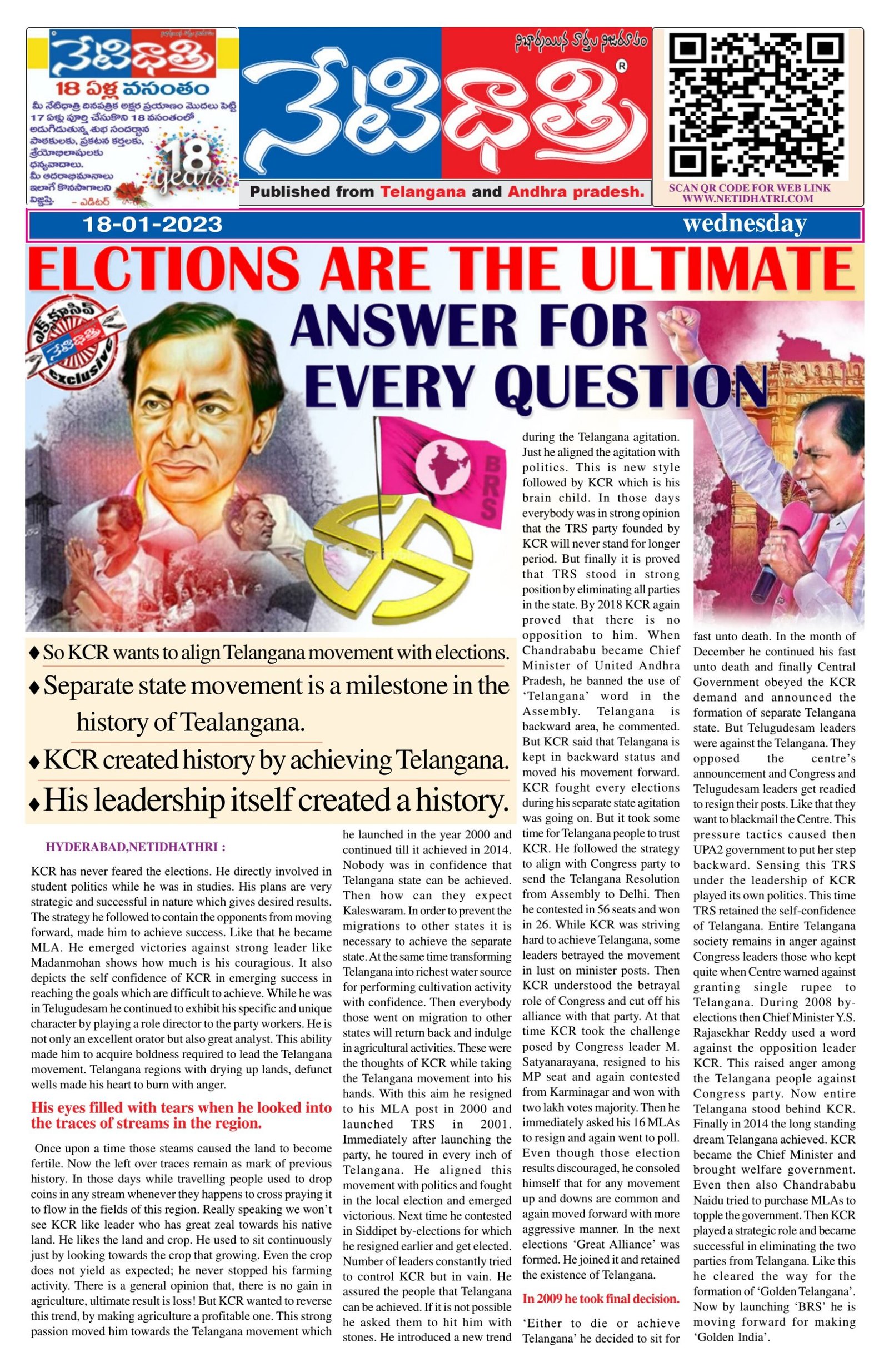 Separate state movement is a milestone in the history of Tealangana.
KCR created history by achieving Telangana. 
His leadership itself created a history.
HYDERABAD,NETIDHATHRI : 
KCR has never feared the elections. He directly involved in student politics while he was in studies. His plans are very strategic and successful in nature which gives desired results. The strategy he followed to contain the opponents from moving forward, made him to achieve success. Like that he became MLA. He emerged victories against strong leader like Madanmohan shows how much is his couragious. It also depicts the self confidence of KCR in emerging success in reaching the goals which are difficult to achieve. While he was in Telugudesam he continued to exhibit his specific and unique character by playing a role director to the party workers. He is not only an excellent orator but also great analyst. This ability made him to acquire boldness required to lead the Telangana movement. Telangana regions with drying up lands, defunct wells made his heart to burn with anger. 
His eyes filled with tears when he looked into the traces of streams in the region.
 Once upon a time those steams caused the land to become fertile. Now the left over traces remain as mark of previous history. In those days while travelling people used to drop coins in any stream whenever they happens to cross praying it to flow in the fields of this region. Really speaking we won't see KCR like leader who has great zeal towards his native land. He likes the land and crop. He used to sit continuously just by looking towards the crop that growing. Even the crop does not yield as expected; he never stopped his farming activity. There is a general opinion that, there is no gain in agriculture, ultimate result is loss! But KCR wanted to reverse this trend, by making agriculture a profitable one. This strong passion moved him towards the Telangana movement which he launched in the year 2000 and continued till it achieved in 2014. Nobody was in confidence that Telangana state can be achieved. Then how can they expect Kaleswaram. In order to prevent the migrations to other states it is necessary to achieve the separate state. At the same time transforming Telangana into richest water source for performing cultivation activity with confidence. Then everybody those went on migration to other states will return back and indulge in agricultural activities. These were the thoughts of KCR while taking the Telangana movement into his hands. With this aim he resigned to his MLA post in 2000 and launched TRS in 2001. Immediately after launching the party, he toured in every inch of Telangana. He aligned this movement with politics and fought in the local election and emerged victorious. Next time he contested in Siddipet by-elections for which he resigned earlier and get elected. Number of leaders constantly tried to control KCR but in vain. He assured the people that Telangana can be achieved. If it is not possible he asked them to hit him with stones. He introduced a new trend during the Telangana agitation. Just he aligned the agitation with politics. This is new style followed by KCR which is his brain child. In those days everybody was in strong opinion that the TRS party founded by KCR will never stand for longer period. But finally it is proved that TRS stood in strong position by eliminating all parties in the state. By 2018 KCR again proved that there is no opposition to him. When Chandrababu became Chief Minister of United Andhra Pradesh, he banned the use of 'Telangana' word in the Assembly. Telangana is backward area, he commented. But KCR said that Telangana is kept in backward status and moved his movement forward. KCR fought every elections during his separate state agitation was going on. But it took some time for Telangana people to trust KCR. He followed the strategy to align with Congress party to send the Telangana Resolution from Assembly to Delhi. Then he contested in 56 seats and won in 26. While KCR was striving hard to achieve Telangana, some leaders betrayed the movement in lust on minister posts. Then KCR understood the betrayal role of Congress and cut off his alliance with that party. At that time KCR took the challenge posed by Congress leader M. Satyanarayana, resigned to his MP seat and again contested from Karminagar and won with two lakh votes majority. Then he immediately asked his 16 MLAs to resign and again went to poll. Even though those election results discouraged, he consoled himself that for any movement up and downs are common and again moved forward with more aggressive manner. In the next elections 'Great Alliance' was formed. He joined it and retained the existence of Telangana. 
In 2009 he took final decision. 
'Either to die or achieve Telangana' he decided to sit for fast unto death. In the month of December he continued his fast unto death and finally Central Government obeyed the KCR demand and announced the formation of separate Telangana state. But Telugudesam leaders were against the Telangana. They opposed the centre's announcement and Congress and Telugudesam leaders get readied to resign their posts. Like that they want to blackmail the Centre. This pressure tactics caused then UPA2 government to put her step backward. Sensing this TRS under the leadership of KCR played its own politics. This time TRS retained the self-confidence of Telangana. Entire Telangana society remains in anger against Congress leaders those who kept quite when Centre warned against granting single rupee to Telangana. During 2008 by-elections then Chief Minister Y.S. Rajasekhar Reddy used a word against the opposition leader KCR. This raised anger among the Telangana people against Congress party. Now entire Telangana stood behind KCR. Finally in 2014 the long standing dream Telangana achieved. KCR became the Chief Minister and brought welfare government. Even then also Chandrababu Naidu tried to purchase MLAs to topple the government. Then KCR played a strategic role and became successful in eliminating the two parties from Telangana. Like this he cleared the way for the formation of 'Golden Telangana'. Now by launching 'BRS' he is moving forward for making 'Golden India'.